ABOUT DEBRA ROBERTS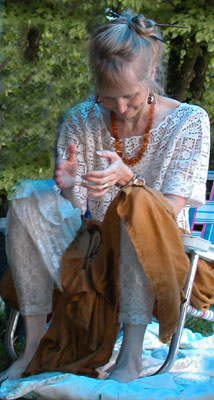 Debra Roberts has lived and breathed the arts and spirituality all her life. Her work as an artist and educator has taken her to England (where she lived for eleven years), Northern Ireland, Europe, Turkey, and various cities around the United States. In New Mexico, she worked with Coyote Gathers His People, a Native American performing troupe, and was Director of the New Mexico Literacy Theater, a company that toured pueblos, schools, prisons and rehabilitation centers around the Southwest, promoting the value of literacy in people's lives.
These and many other experiences of the arts in service to multicultural communities deeply impacted her, as does her friendship with elders from many traditions. A meeting with Hopi elder Thomas Banyacya, a messenger of Hopi prophecy who spoke about the vital importance of women stepping forward into the world, also profoundly touched her.
In 1997, after a series of strong dreams about filmmaking, Debra started Heron Productions LLC, a multimedia company that has produced compelling documentaries, music and educational videos. In the fall of 1999, she also founded Little Pearls , a non-profit company that makes "tiny films that open hearts and minds".
In late 2004, Debra took a six-month sabbatical that turned into the rest of her life. She went on pilgrimages to India, Hopi land and the Black Madonna region of southern France, emerging from these experiences with her offering, Prasad for Women,  a series of talks for Fifth World Women Walking Upright. And that winter of 2005 also ushered in another immense life change. By pure grace, honeybees came into her life as a full-blown Fifth World Calling. She became a bee steward (or kept by her bees, as she puts it) and a passionate advocate, speaker and natural beekeeping educator. She started Holy Bee Press  and you can follow her adventures on that website. The rest is history … and certainly her-story.